Raspberry Apple Crisp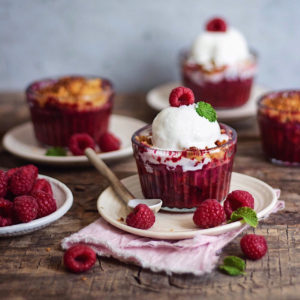 1 cup frozen raspberries
2 apples, peeled and cubed
4 tablespoons fresh lemon juice
1 cup whole-wheat flour
½ cup oat flour
¼ cup honey/ maple syrup
½ cup cold butter, cubed
Pre-heat the oven to 180C.
In a sauce pan set over medium heat, cook raspberries, apples an lemon juice until the fruit begins to break down. Transfer the filling to oven safe ramekins
In a large bowl, whisk whole wheat flour and oat flour.
Mix in the honey.
Use your hands to mix in the butter. The mixture will be coarse and sandy. Sprinkle the mixture on the filling in the ramekins.
Bake at 180C for 20-25  minutes of until the crisp topping is golden-brown.
Serve with a scoop of vanilla ice-cream  and fresh raspberries.