EGGLESS MINI CHOCOLATE CAKES WITH CARAMEL FROSTING AND HAZELNUT PRALINE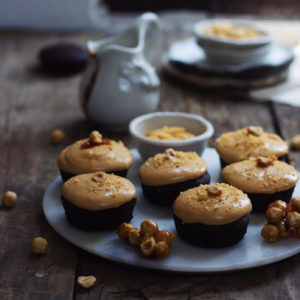 Eggless mini chocolate cakes using the recipe
½ cup caramel sauce
To make caramel sauce, cook 1 cup granulated sugar on medium heat, until it turns into a light amber color. Add ½ cup salted butter and continue to cook for another 2-3 minutes. Then add ½ cup fresh cream. Bring the mixture to a boil and then set it off the heat. Let the caramel sauce cool completely before using it for the frosting.
200 grams cream cheese, softented
½ cup salted butter, softened
2 cups icing sugar
• ½ cup granulated sugar
• 1 cup hazelnuts, toasted
Once the mini eggless chocolate cakes are baked, let them cool completely.
To make the caramel frosting, beat the cream cheese and butter together until it is light and fluffy. While the mixer is still running, gradually add sugar. Keep beating until the frosting is fluffy.
Use a spatula to fold in the cooled caramel sauce. Pipe the frosting on the mini cakes.
To make the hazelnut praline, cook the granulated sugar in a saucepan set over medium heat until it is a light amber color. Add hazelnuts to the hot sugar and stir to make sure all the hazelnuts are evenly coated. Immediately transfer the mixture into a baking tray and let it cool completely. It will harden as it cools.
• Once the praline is cooled completely, roughly break it and then process in the food processor to get a powder like mixture.
Sprinkle the hazelnut praline powder on the frosting to complete the mini eggless chocolate cakes.
Recipe by
Bake with Shivesh
at https://bakewithshivesh.com/mini-chocolate-cakes-with-caramel-frosting-and-hazelnut-praline/