GLUTEN FREE BANANA BREAD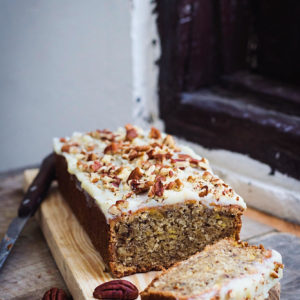 1 cup tapioca flour
1 cup rolled gluten free oats
1 teaspoon baking powder
½ teaspoon baking soda
1 teaspoon cinnamon powder
½ teaspoon ginger powder
½ cup butter, softened
¼ cup castor sugar
2 eggs
3 large bananas, baked in the oven at 200C for 10 minutes
½ cup crushed pecans
Pre-heat the oven to 180C. Line a loaf pan with parchment paper
In a large bowl, whisk flour, oats, baking powder, baking soda, cinnamon and ginger
In a separate bowl beat butter and sugar.
Add eggs and beat well.
Mix in the bananas and use a fork to make sure it is well incorporated.
Combine dry ingredients with the wet ingredients but do not over mix.
Fold in the pecans.
Transfer the batter into the loaf pan and bake at 180C for 30-40 minutes.
Once it is cooled completely, top with
cream cheese frosting.