Easy Eggless Carrot Cake Recipe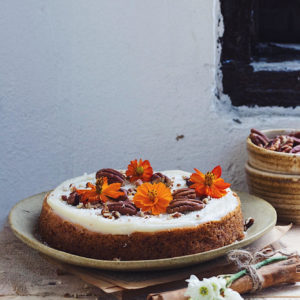 1 cup (120g) all-purpose flour
½ teaspoon (2g) baking powder
½ teaspoon (3g) baking soda
1 teaspoon (4g) cinnamon powder
½ teaspoon (2g) ginger powder
½ tin condensed milk (200gm)
¼ cup (55g) butter, softened
¼ cup (60mL) milk
¼ cup (32g) crushed pecans/ walnuts
1 + ½ cup (150g) grated carrots
Pre-heat the oven to 180*C. Line a 6" round cake pan with parchment paper.
In a bowl, whisk together flour, baking powder, baking soda, cinnamon powder and ginger powder
In a separate bowl, whisk together butter and condensed milk. Whisk in the milk.
Using a spatula, fold the dry ingredients into the wet ingredients. Do not over-mix.
Fold in the carrots and pecans. Transfer the batter into the cake pan and bake at 180*C for 30 minutes or until a toothpick inserted into the center comes out clean.
Recipe by
Bake with Shivesh
at https://bakewithshivesh.com/eggless-carrot-cake/