APPLE CAKE INFUSED WITH PAUL JOHN BOLD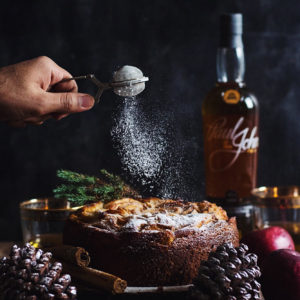 2 large apples, peeled and thinly sliced
¼ cup of Paul John BOLD single malt whisky
1 tsp cinnamon powder
¼ tsp grated nutmeg
2 cups all purpose flour (maida)
4 tea-spoons baking powder
1 + ½ cup castor sugar
1 cup vegetable oil
4 eggs
¼ cup milk
Pre heat the oven to 180C. Line a 9" cake tin with parchment paper.
Toss the apples with cinnamon powder and nutmeg.
Soak them in Paul John BOLD whisky.
In a separate bowl, combine all purpose flour and baking powder.
In another bowl, beat sugar and vegetable oil until the mixture is light and pale.
Beat in the eggs.
Add the dry ingredients to the wet ingredients. Do not over mix.
Beat in the milk and the whisky from the apples.
Pour the batter into the cake pan. Place the apple slices on top.
Bake at the cake at 180C for 40-50 minutes or until a toothpick inserted into the centre comes out clean.
Recipe by
Bake with Shivesh
at https://bakewithshivesh.com/apple-cake-infused-paul-john-bold/